FLC Celebrates Another "Best Ever" Conservation Year for 2014!
---
Foothills Land Conservancy is dedicated to promoting, protecting and enhancing the lands and environments of the Southern Appalachian region and promoting the character of the land for the general public, now and in the future.
This year, FLC celebrates 30 years of service as a regional land trust with 58,900 acres preserved to date! Last year, Foothills had our 4th consecutive record year for preserved acreage. To learn more about our programs, please view our 2015 Spring Newsletter & 2014 Annual Report by clicking on the image below.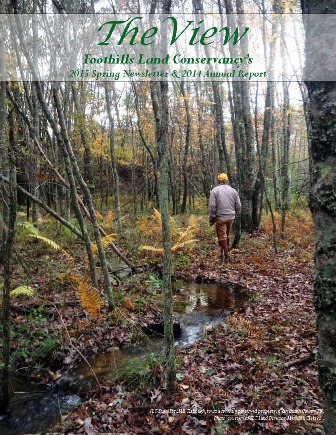 January 2015 News Release
Maryville, TN – In late-December 2014 the Foothills Land Conservancy celebrated another "best ever" conservation year with the completion of 13 conservation easements totaling 11,711 acres projects that span 4 states and cover 8 counties! To date, FLC's cumulative land preservation projects now cover 58,711 acres within the 5 states of Tennessee, Kentucky, Georgia, South Carolina and North Carolina. Over the past four years (2011-2014), FLC has doubled the amount of acreage preserved through conservation easement agreements compared to all the years prior to 2011.
"2014 was a phenomenal year that has been preceded by several other record years, says Bill Clabough, FLC's Executive Director. He adds, These successes can be directly attributed to all of our supporters and especially our Board members they've enabled Foothills to grow and expand our service area."

(The news release continues below images.)
Multi-State Expansion
In 2014, FLC worked with landowners on conservation easement projects in Tennessee as well as in the adjacent states of Kentucky, Georgia and South Carolina. Last year, FLC partnered with landowners on an out of state land project consisting of 120 acres off of the Blue Ridge Parkway in Wautaga County, North Carolina. Below is a list of FLC's 2014 completed conservation easement projects along with project highlights.
Bell County, KY (920 acre tract)
Located close to the Tennessee/Kentucky state line, this newly preserved and scenic property resides along a high ridge on the Cumberland Plateau. The easement is very visible to the public for a large area as US highways 25E and 58 are nearby, as well as a
number of county roads, and the city of Middlesboro, Kentucky. Adjoining the easement are both Federal and state-protected lands, including the Shillalah Creek Wildlife Management Area and Cumberland Gap National Historical Park. The easement not only adjoins Cumberland Gap National Historical Park but also provides views from the park's overlooks. Other nearby natural areas include the Wilderness Road State Park and Martin's Fork Wildlife Management Area and State Natural Area. This easement protects part of the headwaters and sections of a number of creeks. These waterways include Shillalah Creek, Bee Branch, and Devil's Garden Branch, which flow into the Clear Fork and the Upper Cumberland Watershed. Rock outcrops and boulderfield communities add to the diversity and wildlife habitat.
Fairfield County, SC (2620.21 acre tract)
One of FLC's larger conservation easements to date, this conservation easement is an expansive scenic tract just northwest of Columbia, in Fairfield County, South Carolina. The site is mainly forested with the Broad River flowing along one the easement's boundaries. Creeks, springs, wetlands, ponds, and open fields are also present. Animal species noted or likely to use the tract include resident and migratory bird species, coyote, grey and red fox, black bear, southern flying squirrel, a variety of snakes and lizards, eastern box turtle (two shells noted), and white tailed deer.
Lumpkin County, GA (111.61 acre tract)
This property is located in Lumpkin County, close to Dahlonega, Georgia. It's in close proximity to the Chattahoochee National Forest. Several natural areas, including Amicolola Falls State Park, Anna Ruby Falls Scenic Area, Unicoi State
Park and other portions of the National Forest, are also close to the property. This site once housed a granite quarrying operation. A portion of the property borders the Chestatee River. This 50 mile stretch of waterway is popular with many kayakers, canoeists and fisherman is also highly visible within the site's viewshed. One of the most crucial resources on the Property is the abundance of clean water from the Chestatee River as well as from the various other streams, drainways and associated riparian areas found on the tract. The property is almost entirely wooded, with only a small portion kept cut around the site of an old granite quarry. During a site visit, FLC staff observed deer, bobcat, and bear tracks along with an abundant sign of beaver, including a small dam.
Centennial Pioneer Farm, Hartsaw Cove Overton County, TN (1,502.95 acres)
Millard Oakely's family farm, Hartsaw Cove, is one of only a few Centennial Pioneer Farms, indicating the farm is actually older than the State of Tennessee. The farm was originally given as a land grant to Oakley's family in 1792; 4 years before Tennessee became a State. The property is located within 20 miles of Cookeville, near Livingston in Overton County, TN.
In December of 2014, three tracts on the farm, totaling 1,502.95 acres, were placed under one conservation easement with FLC. As it has been for over 200 years, this property is still maintained as a working farm and is currently leased out to Tennessee Tech as the Oakley Sustainable Agricultural Center (OSAC). The OSAC is an experiential learning center for students that offer opportunities for agricultural experiments to agriculture, biology, history, and other fields of study. Property is approximately 60% in open land for agriculture production and 40% in woodlands .Currently hay production, pasture and beef cattle are the dominant agricultural activities.
The Property is located in an area rich with natural, historical, or recreational parks and sites. Nearby parks include the Standing Stone State Park, Roaring River Park, the Roaring River Recreational Are, and the Obey River Park and Recreation Area. Within 15 miles of the Property is Cummins Falls State Park, a 211-acre park that features Tennessee's eighth largest waterfall. The Big South Fork National River and Recreation Area and the Catoosa Wildlife Management Area are located within 20 miles of the farm.
A note about Mr. Oakley- Millard Oakley was elected to four terms to the Tennessee Legislature, served one term to the Constitutional Convention, and was elected to four terms as County Attorney of Overton County. He served in the U.S. House of Representatives from 1971-1973 as General Counsel for the House Select Committee on Small Business. Moving back to Tennessee, Millard served as State Insurance Commissioner from 1975-1979. Throughout his life, Mr. Oakely has served the Overton County community and surrounding counties through various volunteer efforts and educational initiatives.
Marion County TN – 6 Conservation Easements
FLC also completed 6 new conservation project partnerships, totaling 4,485 acres, near Tracey City in Marion County, TN. Three of the tracts are 705 acres each with the remaining three easements at 876, 765 and 699 acres respectively. All 6 tracts are contiguous and lie above both the Sequatchie Valley and Indian Creek and offer sweeping views of the surrounding Cumberland Plateau, Escarpment and ridges above Sequatchie Valley. TWRA, as part of its Tennessee's Comprehensive Wildlife Conservation Strategy, considers the Sequatchie Valley as one of the most unique features of the Cumberland Plateau. The preservation of these lands from commercial and residential development, including strip mining activity, will also contribute to the long term enhancement of water quality for the Little Sequatchie River, Mill Creek and Little Indian Creek.
The properties are situated roughly in the center of the 10 areas of the South Cumberland State Recreation Area which total over 20,000 acres. A Cumberland Plateau Heritage Corridor has been proposed as a National Heritage Corridor, a National Park Service designation The preservation of the scenic attributes of the undeveloped property will add significantly to the enjoyment of travelers to these already protected properties and encourage continued tourism in the region
As part of the regions abundant forestlands, the collective size of these tracts are especially important for ecological continuity and for the support of the unusually rich wildlife and plant diversity present in the Cumberland Plateau region. Protected wetlands are critically important habitat for many invertebrates and other wildlife species such as the amphibians currently struggling due to habitat loss and degradation. Cumberland Seepage Forests and Cumberland Sandstone Glades are two unique vegetation types occurring on the Plateau that commonly include many rare species. Already protected areas nearby include a number of existing private Foothills Land Conservancy (FLC) Conservation Easements with approximately 3,000 acres immediately adjacent to the Property, as well as over 10,500 acres in nearby counties on the Plateau. Other publicly protected areas in the vicinity include the 24,686 acres of Prentice Cooper State Forest which includes the south end of the Cumberland Trail, 234 acres of Grundy Forest, over 20,299 acres of South Cumberland State Recreation Area which includes Savage Gulf Natural Scientific Area, Fiery Gizzard Trail, Grundy Lakes State Park, and the 7,737 acres of Franklin State Forest. TVA's nearby 10,370 acre Nickajack Reservoir on the Tennessee River is prized for its spectacular scenery.
A number of caves are nearby and some could possibly be located on these tracts. There are limestone bluffs along sections of the Little Sequatchie River where the flora appeared to be especially rich with wildlife cover and denning sites in the rock crevices are abundant. The Property is part of the geographic region where Tennessee, Alabama, and Georgia meet, commonly referred to as TAG. Over 15,000 caves are known from this region with many more certainly yet to be discovered. There are at least 6 large caves along Little Sequatchie River, Mandys Cave, Ship Cave, Wine Cave, Dancing Fern Cave, Butterfly Cave, and Sequatchie Cave, most of which are known to support cave-obligate species, or troglobionts, that require the presence of karst topography (limestone and cave) and pure water to survive.
Additional Easements
Polk County, TN (288.788 acres) 
This 288 tract is completely surrounded by U.S. Forest Service lands. The adjacent Cherokee National Forest (CNF) includes over 650,000 acres in east TN. The Southern Region of the CNF includes around 220,000 acres of forests in east TN, and Forest Service lands continue into the 531,000 acre Nantahala National Forest in NC. The Property itself includes a variety of habitats similar to adjacent protected lands and wildlife is plentiful. The Hiwassee River, a State Scenic River and a State Exceptional River, bounds roughly 3,000 of the Property on the NE side. One creek on the Property, Shadwick Branch, has been noted as an Exceptional Stream by the State of Tennessee for its high quality water and associated habitat. Another conserved property, consisting of 649 acres of forested land held by Foothills Land Conservancy, lies within 10 miles of the Property.
The old CSX Railroad tracks cross the tract in two areas and essentially surrounds the property. Currently, the Overhill Heritage Association oversees management of a private excursion train for scenic tours, called the Hiwassee River Rail Adventure, originating in Etowah, TN. These tours, as well as the occasional shipping of freight including calcite from Copper Hill, TN, are the primary uses of the railway. Located at a sharp bend of the river just off the Property can be found a unique loop of the tracks around Bald Mountain. This is one of only three locations in the US where railroad tracks loop over themselves to gain elevation in limited space. The trestle itself is located within the boundaries of the Property.
Van Buren County, TN (1028 acres)
The 1028 acre tract is located south of the small town of Spencer, TN and is visible from State Route 111 along its eastern border. Numerous outdoor recreation destinations are in the area, including South Cumberland State Park and Fall Creek Falls State Park. Also within ten miles of the property there are at least seven properties with Foothills Land Conservancy conservation easements totaling more than 5,400 acres. The conservation of this property will support the continuity of habitat corridors between these and other extensive open space lands in the region.
Grundy County, TN (755 acres)
This 755 acre property lies within the Cumberland Plateau and Plateau Escarpment in Grundy County near the small community of Palmer. The tract offers views off to the surrounding Cumberland Plateau toward the Sequatchie Valley, Walden's Ridge and the Tennessee River drainage. The size of the property along with the range of elevation and geology combined with the variations of hydrology, slopes, rock outcrops, multiple streams, seeps and edges provides for an unusually high diversity of natural habitats of both plant and animal species. Tracks of white-tailed deer, turkey, coyote, possum, raccoon and songbirds were observed during a staff site visit. Already protected areas nearby include a number of existing conservation easements as well as Prentice Cooper State Forest and the Cumberland Trail, Grundy Forest, South Cumberland State Recreation Area with Savage Gulf and Fiery Gizzard Trail, Grundy Lakes State Park, North Chickamauga Creek Gorge State Natural Area, North Chickamauga Creek WMA and Franklin State Forest most prominently.
About Conservation Easements: For private landowners who wish to ensure their property stays in its natural state or as a working farm in perpetuity, or forever, they can opt to enter into a conservation easement agreement with a land trust. This customizable contract describes the activities allowed on the property like hiking, camping, firewood cutting, and farming but often prohibits things like mining and future commercial or residential development. Landowners who place a conservation easement on their property can continue to own, use, sell, live on or bequeath their land.
About Foothills Land Conservancy: FLC is dedicated to promoting, protecting and enhancing the lands and environments of the Southern Appalachian region and promoting the character of the land for the general public, now and in the future. FLC is a 501(c)(3) and does not receive any financial assistance from local, state or federal governments. They rely on individual and corporate contributions solely to sustain their organization, land acquisition and stewardship funds.
For media inquiries, please contact FLC's Executive Director, Bill Clabough, by cell phone at 865-755-3883. For more information or public inquiries about the Foothills Land Conservancy, please visit www.foothillsland.org or contact the FLC office at 865-681-8326 or info@foothillsland.org.
Check out related media articles:
Maryville Daily Times: Foothills Land Conservancy Protected 11,600 acres in 2014
To make a donation to FLC:
---