FLC Celebrates Over 7000 acres preserved in 2015!
---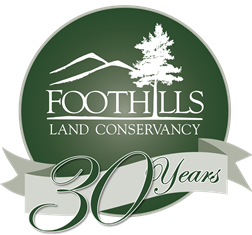 FLC Celebrates 30 Years and Another Banner Conservation Year!
Maryville, TN – Foothills Land Conservancy celebrated another successful conservation year with the completion of a record number of land projects within a one year period – 24 land partnerships totaling 7215 acres. These projects span 5 states and cover 7 Tennessee counties! To date, FLC's cumulative land preservation efforts now cover 65,900 acres within the 7 states of Tennessee, Kentucky, Georgia, South Carolina, North Carolina, and recent additions of Alabama and Virginia. FLC's projects also involve two new Tennessee counties Clay and Humphreys. FLC has also received 4 fee-simple land donations.
In other good news, the US Congress recently passed a bill that will make the tax incentive for conservation easement donations permanent. Once signed into law the incentive will be applied retroactively to start Jan. 1, 2015. "I consider the permanent tax incentive for conservation easements icing on the cake of an amazing year. We've had another successful year for Foothills and it happens to be a milestone year for us as well celebrating 30 years as a regional land trust, says Bill Clabough, FLC's Executive Director. He adds, This year's conservation easement partnerships, support from all of our Friends, and our diversified Board of Directors are the major reasons for our continued phenomenal growth and expansion of our service area."
FLC's 2015 East Tennessee Conservation Easements:
Blount County, TN – This 68.19 acre property in Blount County consists of three tracts and is located in the Top of the World community, close to the Foothills Parkway. This newly preserved property offers outstanding views of the Great Smoky Mountains National Park (GSMNP). The predominantly forested and undeveloped nature of the property is valuable for the many natural resources it protects. The numerous oaks and hickories supply ample mast for wildlife and the rhododendrons add the needed cover for the black bear, bobcat and fox known to live in the area.
There are a few creeks on the property with one, known as Flat Creek UT, that is listed as a high quality stream within the GSMNP from which it enters the property just 100-200 feet upstream. Per the Tennessee Department of Environmental Conservation, observations of the federally endangered and Tennessee critically imperiled Indiana Myotis (Bat) have occurred between one and four miles from the property. Their preferred foraging area is riparian forest habitat. The streams on the Property provide such habitat and may very well be used as the bats feed up to nearly 6 miles from their roosts. Foothills Land Conservancy has eight conservation easements totaling 2,359 acres between one to ten miles from this Property on Chilhowee Mountain. Fourteen other easements, totaling close to 2,047 acres, are located near the Chilhowee Mountain ridgeline.
Knox County, TN – A landowner that has worked previously with FLC on two other preserved tracts, totaling 365 acres in the Bull Run Valley area of Knox County, decided to place an additional two tracts in conservation easement with Foothills this year. One tract is 37 acres and is adjacent to Bull Run Creek with the other nearby tract at 22.45 acres. Both tracts consist of agriculture fields with no buildings permitted on either tract.
Evidence of wildlife on the property during the site visit was plentiful, with deer, gray squirrel, eastern chipmunk and turkey being most prominent. Several dragonflies, damselflies, skippers and other butterflies were observed utilizing the Property including migrating Monarchs. A variety of birds were heard or seen including a number of warblers and thrushes in the woodlands and sparrows and hawks in the open lands. The most unique habitat found on the Property was a limestone bluff stretching across the southern boundary of the one of the tracts. It supported several uncommon limestone-loving ferns including walking fern, spleenwort, and purple cliffbrake.
Knox County, TN – A 15 acre Knox County property, located in the community of Powell, has been placed under conservation easement with Foothills. It consists mainly of wetlands and also provides the frontage for a scenic road. The landowner has plans to donate it to the Legacy Parks Foundation with the overall understanding that it will eventually be turned over to the city/county government for a public park.
The Property is essentially an island of habitat amid an urban setting and therefore is an oasis for wildlife. The mature trees and shrubs offer plentiful seasonal food, cavities, nesting sites and cover for most urban wildlife and for migratory and resident birds. The creek, being a year-round water source, would be an important resource for wildlife including fish, waterfowl, amphibians and aquatic arthropods. There was abundant white-tailed deer sign and some beaver sign observed on the property during an FLC inventory of the flora and fauna.
Greene County, TN – A 15.17 acre tract in Greene County, belonging to the non-profit group, Rural Resources, has been preserved through a conservation easement agreement with FLC. The property was formerly owned by the Childress family. The Childresses established the organization in response to the rapid loss of farmland they observed and desired their four-generation farm and others to be preserved. Rural Resources is dedicated to the education and training of youth in environmentally sound farming practices and teaching them to run a farm or food related business. The organization plans to continue utilizing the property in a manner that allows for sustainable agricultural practices and supports educating the community for an agrarian way of life into the future.
There is a creek on the property with the Nolichucky River close by. The property made up of approximately 90% agricultural fields and pastures and 10% of riparian fringe along the creek. The land also supports grassland birds that are increasingly under pressure to survive due to diminishing habitat. This includes the Eastern Meadowlark which has been seen on site and the Northern Bobwhite which breeds on the property. It also serves as the wintering grounds for field-loving birds such as the White-crowned Sparrow, uncommon in Tennessee. The riparian corridor also provides cover for migrating birds in spring and fall.
FLC Continues Conservation Efforts across Middle Tennessee:
Van Buren County, TN – Two adjacent properties have been placed under conservation easement with FLC in Van Buren County, TN. One property is 528.92 acres and the other is 1,025.07 acres. Both tracts have reclaimed mine sites with good drainages. The Rocky River flows through both sites.
Close to these properties are two other tracts, which have also recently been preserved through conservation easements. One tract is 328.38 acres and the other, larger size tract, is 631.30 acres. While portions have been timbered, there are open fields with native vegetation, include oak and hickory along with warm season grasses. The Rocky River also flows through one of the tracts.
Three of the Van Buren CE's are located next to the historic Trail of Tears. This year's land projects in Van Buren County contribute towards 4,000 contiguous acres now being preserved through FLC's conservation easements, along with a few thousand additional acres are located close by.
To view descriptions and photos for the remainder of projects, please view the image gallery below. (Select a photo to enlarge.)

* * *

About Conservation Easements: For private landowners who wish to ensure their property stays in its natural state or as a working farm in perpetuity, or forever, they can opt to enter into a conservation easement agreement with a land trust. This customizable contract describes the activities allowed on the property like hiking, camping, firewood cutting, and farming, but often prohibits things like mining and future commercial or residential development. Landowners who place a conservation easement on their property can continue to own, use, sell, live on or bequeath their land.
About Foothills Land Conservancy: FLC is dedicated to promoting, protecting and enhancing the lands and environments of the Southern Appalachian region and promoting the character of the land for the general public, now and in the future. FLC is a 501(c)(3) and does not receive any financial assistance from local, state or federal governments. They rely on individual and corporate contributions solely to sustain their organization, land acquisition and stewardship funds. Anyone wishing to learn more about FLC, can visit www.foothillsland.org or contact the Foothills office at 865-681-8326 or info@foothillsland.org.
#  #  #
Foothills Land Conservancy • 865-681-8326 • 373 Ellis Avenue • Maryville, TN 37804 • www.foothillsland.org
Media Links:
January 2016 Article – Knoxville News Sentinel 'Foothills Land Conservancy enjoys another record year', click here.
December 2015 Article – Maryville Daily Times 'FLC Protects more than 7000k acres', click here.
November 2015 Article – Maryville Daily Times 'Land Conservancy's Big Year', click here.
Read about FLC's 2014 Land Projects,

click here

.
To make a donation to FLC

,

click

h

ere.
---