FLC Photography Tours
---
Private Lands Photo Tour with Foothills Land Conservancy
Although this event has already passed, please email eeustace@foothillsland.org if there is any interest in taking photos for FLC!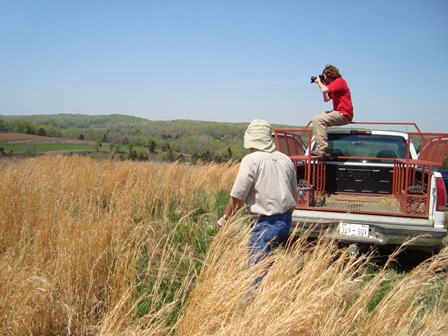 UPDATED DETAILS: This tour will focus on 3 Sevier County easements and, depending on time, a late afternoon visit to a farm in Blount County. What to expect Scenic views atop Bluff Mountain, fall leaf color, creeks, woods, wildlife, wide shots of the valley along Walden's Creek. At one of the properties, farmer, FLC Board Member and Conservation Easement donor, Mike Suttles, will provide background about his family's farm and can answer any questions about the valley. Foothills Land Conservancy is a non-profit organization dedicated to preserving the natural beauty and biodiversity on privately owned land from the Cumberland Plateau to the Smoky Mountains. On Saturday, October 13th, FLC staff will lead a photographers tour of properties selected from the 90 that have been protected by conservation easements. Foothills has arranged permissions from land owners for this rare opportunity to scout properties that are usually not available to most photographers. Bring your gear for a day capturing images that tell the story of farms, open spaces, biodiversity, water quality management and the unique reasons these properties should be preserved. It's possible that some of these lands could be used for unique workshops or individual photographers may be able to form relationships with land owners for future visits and images few others have chances to capture. On the tour, talk with the staff about the direction your imagination takes you.
Of course, Foothills Land Conservancy will appreciate any images photographers are willing to share for the purpose of protecting more of our East Tennessee beauty. Photographer credit will always be included. Foothills actively seeks publication of its cause in numerous publications.
Additional Tour Details:
Meeting Details: The plan will be to meet at the FLC office at 9:30am on Saturday, October 13, 2012. FLC's office location is 373 Ellis Avenue, Maryville, TN 37804. You can contact Elise with any questions before the tour via cell phone at 865-201-5806. You may wish to carpool with friends, you can follow the Foothills staff in your own car and there will be some room in the staff cars as well. The tour should conclude at the FLC office around 5:00PM but participants can leave at any time. Tour is subject to cancellation if inclement weather occurs.
Reservation Required: Tour is Limited to 20 Spaces, please contact Elise Eustace with FLC to reserve your spot. She can be reached at (865) 681-8326 or eeustace@foothillsland.org. Box lunches will be provided by Foothills for participants who register before October 5. There is no fee for this tour. Foothills wants to expand awareness of its important work.
Level of Difficulty: These will be primarily intermediate walks with a few places that might be difficult to get to. There will always be an option for individuals to decline a portion of the trip if it is not feasible. Please bring water, comfortable shoes and be prepared to walk a mile or so at each property (we will visit around 4-5 properties).
What kind of shots can the photographer expect to make: A wide variety the East Tennessee landscape is diverse and so are the properties we will be visiting. We will more than likely visit one to two farms, open spaces/natural areas, rivers/creeks, and a few that offer a scenic views. All images are welcome but we would like to get a few shots of landowners (with their permission) wildlife, native flora and fauna, scenic views and water images. Finalized tour details will be sent to participants in the coming weeks.
---