FLC's 2014 Native Tree & Shrub Projects
---
In 2013, Foothills Land Conservancy received a $5000 grant, made possible by the American Forests and Alcoa Foundation's Partnership for Trees initiative. The Partnership for Trees Program is part of Alcoa Foundation's commitment to plant 10 million trees by 2020, with nearly 700,000 trees planted to date. FLC's focus for the grant was to work with local partners to plant close to 3200 native trees and shrubs at various sites in the East Tennessee region during the Spring of 2014. Planting areas centered on sites with stream bank erosion and/or locations where the addition of native bio-diversity will increase wildlife diversity while also enhancing view sheds. Sites were qualified by designated technical advisors and will be managed and monitored with their help.
Along with FLC staff and the grant's technical advisors, both Knox and Blount County Alcoa Inc. employees volunteered their time to assist at two planting sites – The Forks of the River Wildlife Management Area and Kyker Bottoms Refuge. These sites are managed by the Tennessee Wildlife Resources Agency. Other planting sites included the Seven Islands Wildlife Refuge (now called the Seven Islands State Birding Park), TVA public hunting sites in Rhea, Meigs, and Hamilton counties, and private lands where restoration efforts were ongoing and additional plantings would be beneficial.
To view a slide show about the grant's projects, the benefits of planting native in your own backyard, and resources available, please click on this link:

Power Point Presentation

.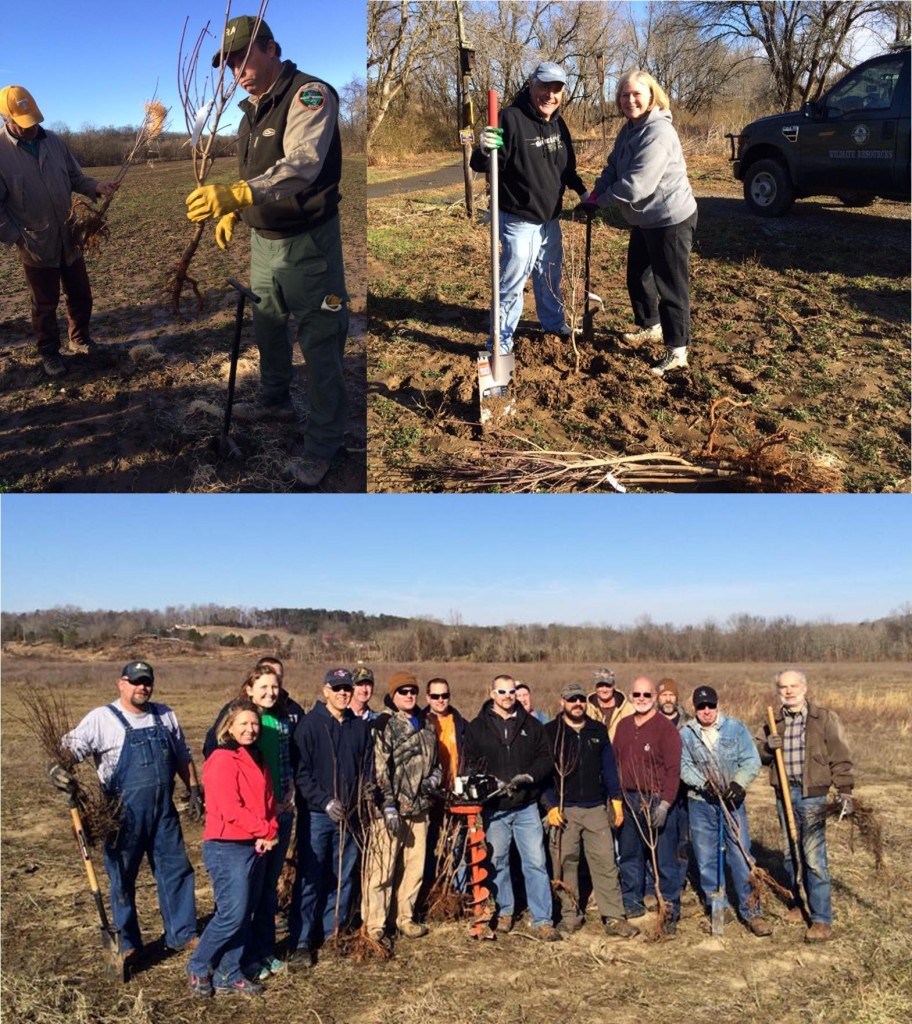 Images from FLC's Spring 2014 Native Tree and Shrub Plantings
FLC's technical advisors for the grant are:
Bill Smith – Mr. Smith is the Wildlife Manager for the Tennessee Wildlife Resources Agency (Region 4 Office). He is a graduate from the University of Tennessee in Wildlife and Fisheries Science (1984). He was a wildlife officer for TWRA from 1985-1996. He was promoted to Wildlife Manager II 1996 and is currently the Wildlife Manager II over four wildlife management areas: Forks of the River WMA(Knox County) Kyker Bottoms Refuge, Whites Mill Refuge, and Foothills WMA all in Blount County.
Dick Conley – For 39 years Dick Conley served as a wildlife habitat biologist for the Tennessee Wildlife Resources Agency. Retired in 2007, Mr. Conley currently works as a biologist/forest consultant for several land owners in East Tennessee and is a consultant for what is now Seven Islands State Birding Park. He specializes in restoring native warm season grasses and soil building legumes. He served on FLC's Board of Directors for two terms during 2008-2013.
Erich Henry – Mr. Henry serves as the Director of Conservation for the Blount County Soil Conservation District. He is a graduate of The University of Tennessee College of Agriculture and Natural Resources and has completed specialized courses in forage and grassland management. Mr. Henry was named the 2007 Outstanding District Conservationist of the Year by the Tennessee Association of Conservation Districts and the Tennessee Valley Authority. He routinely provides technical assistance in conjunction with multiple grant funding pools for the improvement of natural resources within Blount County.

# # #
About the Partnership for Trees Program: Alcoa Foundation and American Forests have joined together for the Partnership for Trees Program, a multi-year initiative to plant hundreds of thousands of native tree species on damaged and degraded sites around the world by engaging local communities in the restoration of forest ecosystems. This initiative, which commenced in 2011, builds toward Alcoa's goal of planting 10 million trees by 2020 and supports American Forests' mission to protect and restore forests. For a project to qualify for this program, Alcoa sites and employees work with qualified local nonprofit groups and agencies to develop and submit forest restoration proposals and then participate in the tree planting.

About American Forests: American Forests restores and protects urban and rural forests. Founded in 1875, the oldest national nonprofit conservation organization in the country has served as a catalyst for many of the most important milestones in the conservation movement, including the founding of the U.S. Forest Service, the national forest and national park systems and literally thousands of forest ecosystem restoration projects and public education efforts. In the last two decades, American Forests has planted more than 44 million trees in forests throughout the U.S. and in 44 countries, resulting in cleaner air and drinking water, restored habitat for wildlife and fish, and the removal of millions of tons of carbon dioxide from the atmosphere. Learn more at www.americanforests.org.
About Alcoa Foundation: Alcoa Foundation is one of the largest corporate foundations in the U.S., with assets of approximately US$468 million. Since 1952, they've invested more than $590 million to improve the environment and educate tomorrow's leaders. The work of Alcoa Foundation is further enhanced by Alcoa's thousands of employee volunteers who share their talents and time to make a difference in the communities where Alcoa operates. Through the Company's signature Month of Service program, 62% percent of Alcoa employees volunteer with 700,000 hours donated in 2013. For more information, visit www.alcoafoundation.com and follow @AlcoaFoundation on Twitter.
About Foothills Land Conservancy: FLC is dedicated to promoting, protecting and enhancing the lands and environments of the Southern Appalachian region and promoting the character of the land for the general public, now and in the future. FLC is a 501(c)(3) and does not receive any financial assistance from local, state or federal governments. They rely on individual and corporate contributions solely to sustain their organization, land acquisition and stewardship funds. In 2013, Foothills Land Conservancy celebrated the completion of 14 conservation easements totaling 11,271 acres a "best ever" record for the organization. To date, FLC now has a total of 47,000 acres preserved  projects that span 26 counties in Tennessee with one project in Wautauga County, North Carolina. The public should contact their office with any interest or questions at 865-681-8326 or info@foothillsland.org. To learn more about FLC, visit www.foothillsland.org.
CONTACT:
Elise Eustace, Communication & Development Director
Foothills Land Conservancy
Office (865) 681-8326; Cell (865) 201-5806
---