Recap of FLC's '30th Anniversary' Summer Celebration – August 22, 2015
---

On Saturday, August 22, 2015,the Foothills Board, staff, and supporters gathered to celebrate FLC's 30th anniversary as a regional land trust.
This year's Summer Celebration was another successful and fun evening spent at Penrose Farm. Many thanks to our hostess, Christine 'Teenie' Hayworth. We would also like to thank our 2015 Sponsors, 2015 Host Committee, and volunteers along with our Board of Directors for making this event a wonderful gathering of friends.
During the program, Foothills announced the creation of a new fund, called The Land Preservation Fund. This special fund will assist FLC with future land protection and acquisition projects. To date, close to $14,000 has been raised in donations in memory of Jack Rose. The FLC Board has agreed to match, dollar for dollar, these donations along with any future donations in memory of Jack Rose. The money to date all $24,000  will be placed in the Land Preservation Fund. FLC has also approved a portion of money recently received from the estate of the late Charlie Klabunde, along with donations made by two other FLC supporters, to be moved into this fund as well. We are excited to report that the fund balance now stands at a total of $100,000, assisting in a great start for an important fund.
Here are a few links to recent media articles about FLC's 30th anniversary as a regional land trust and our recent Summer Celebration: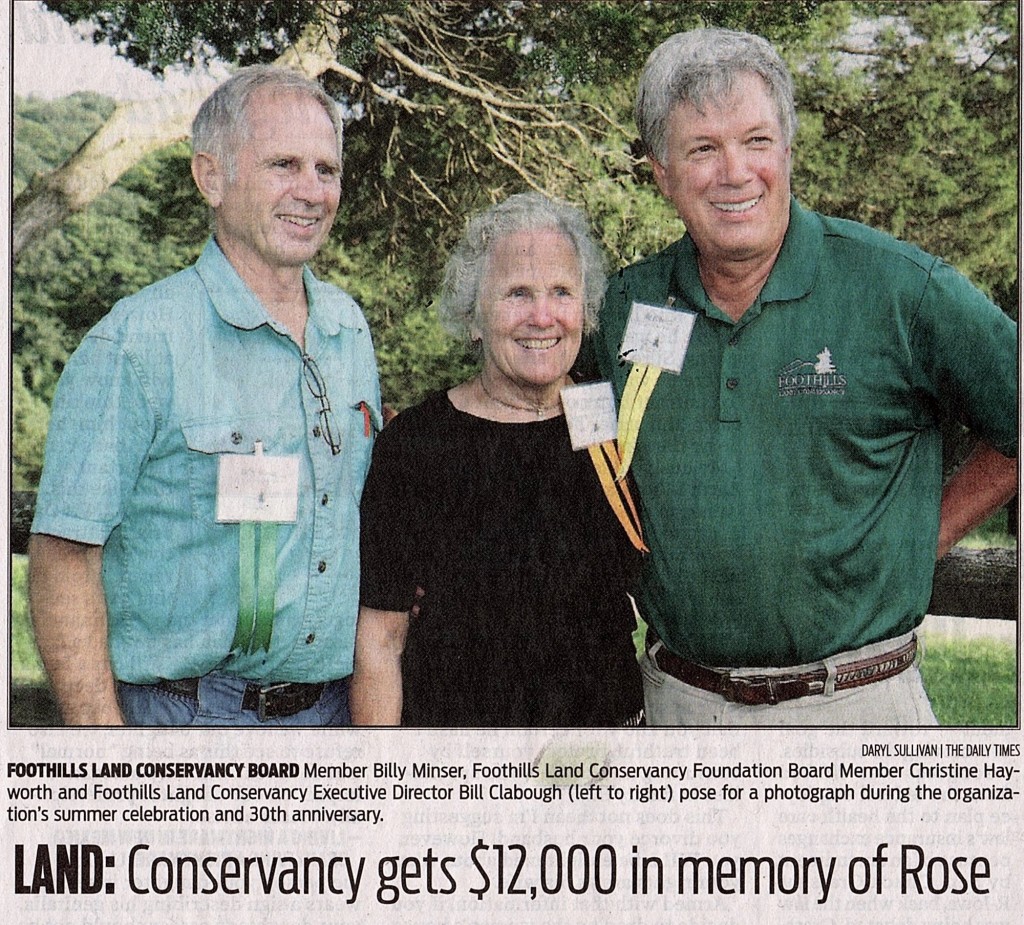 Celebrate Summer – Conservancy marks 30 years of land protection – Maryville Daily Times
Cynthia Moxley's The Blue Streak 'Foothills and friends remember Jack Rose'
30 Years of Protecting Land – FLC celebrates past, looks ahead – Maryville Daily Times
Roots of Foothills Land Conservancy are deep – Maryville Daily Times
To view last year's 2014 Celebration page that includes images from the event, please click here.
---