2012 Conservation Easements
---
FLC Celebrates Another Record Setting Conservation Year!
Maryville, TN – It's been another banner year for Foothills Land Conservancy. In December of 2012, FLC completed 12 conservation easement projects totaling 6625 acres – surpassing last year's acreage number of 4400. To date, FLC has a total of 36,000 acres preserved. The total number of conservation easement agreements stands at 105, covering 21 counties! Here are the easement descriptions, primarily grouped by county:
Blount County
FLC's 100th Easement Jarvis Property – 62 acres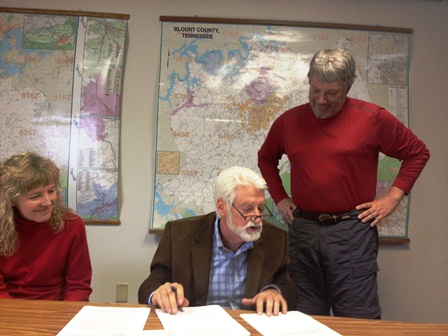 Dr. Craig Jarvis helped FLC celebrate mark the organization's 100th conservation easement agreement Friday by signing his second easement with Foothills to mark the occasion! FLC also has another reason to celebrate. Dr. Jarvis will be a returning Board Member in 2013. He has been associated with FLC since it started and has served intermittently on the Board throughout the years.
December's signing will protect a 2nd property, which is in Blount County. The 62 acre tract is 50% wooded with most of the remainder in hay fields. The property is very close to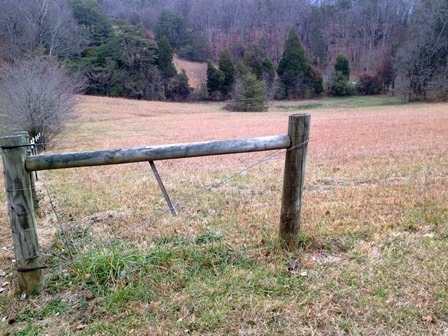 Chilhowee Mountain and the 11,000 acre Foothills Wildlife Management Area (WMA), a vital buffer between the Great Smoky Mountains National Park and the developed areas outside the Park's perimeter. Other natural areas in the vicinity include the 350 acre Kyker Bottoms WMA and the 8000 acre Tellico WMA3. The proximity of the Jarvis property to these areas adds a safe buffer habitat for maintaining healthy populations of resident and migratory wildlife species and as a reservoir of native plant species.
For Dr. Jarvis, the timing was right for the second easement, "we didn't want it to change and we felt like because of that it was time to go ahead and give the easement on it also – so that we know from this moment on it won't change."
Back in 2007, Jarvis permanently preserved close to 478 acres in Monroe County. Located in the wooded foothills of the Unicoi Mountains, the majority of the acreage from the first easement is forested with 2nd and 3rd growth oak, hickory and pine. Views from the west side of that tract offer sites of Starr Mountain and the Cherokee National Forest.
Loudon County
Cline Property (56 acres) Also celebrating their second conservation easement with Foothills are Drs. Richard & Kim Cline. Back in 2008, the Cline's put close to 220 acres in an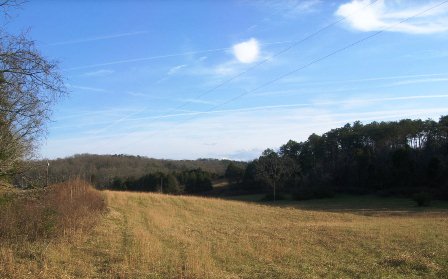 easement with FLC. 120 acres of that tract are woodlands that consist primarily of 100-150 year old oak and hickory trees. The remainder is in pasture and crop land.
Both practicing physicians, the Cline's wanted to continue to protect their land from development emerging in the area by placing a second easement on an adjoining 56 acre tract. Portions of Loudon County that include Tellico Village and Lenoir City are becoming quite popular. The Cline's property sits on an area that is subject to development due to its proximity to Highway 321. The property also lies close to three Tennessee Valley Authority reservoirs: Fort Loudon Lake, Watts Bar Reservoir on the Tennessee River, and the Tellico Reservoir on the Little Tennessee River.
About 2/3 of the second tract is currently in hay fields with at least two wildlife plots under current cultivation. The forested sections contain both evergreen and deciduous trees.
Warren County
The Dry Creek conservation easement is located in Warren County. The 433 acre tract is south of the town of McMinnville and within 20 miles of Fall Creek Falls State Park. The vast majority of the site is forested. Gently rolling plateau tops allow for scenic views. The easement will help to protect these high areas which provide part of the view shed for the valleys below.
Within 15 miles of the property, there are Several Class II Natural-Scientific State Natural Areas. Hubbard's Cave, considered by the Nature Conservancy as a 'foremost cave preserve' (nature.org), is found within 4 miles of the Property. This State Natural Area is comprised of the cave and 50 surrounding acres and is home to large populations of endangered gray bats and Indiana bats. Within 10 miles is the Savage Gulf Class II Natural-Scientific State Natural Area, part of South Cumberland State Park. Big Bone Cave, 15 miles from the Property, is a National Natural Landmark.
Myers Cove- 460 acres – The property, located southeast of McMinnville, TN, is situated within the southwest portion of the Cumberland Plateau. Within a short driving distance from the Warren County property there are numerous parks including: the northernmost portion of South Cumberland State Park, the 16,000 acres of Fall Creek Falls State Park and Rock Island State Park (which encompasses nearly 900 acres). The property's location is also in close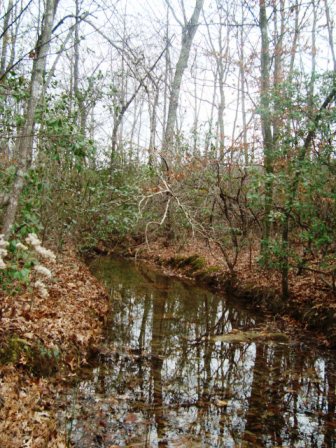 proximity to Cumberland Caverns, the fourth largest cave in the U.S.
This property is roughly 70% wooded with the remainder composed of fields in varying degrees of succession. Some of these fields consist primarily of native grasses; others are composed of a variety of grasses and forbs. Trees species include sourwood, tulip poplar, Virginia pine and shrub, dwarf sumac
The tract is drained by creeks that are part of the Collins River watershed. This watershed supports 28 known rare, threatened or endangered species of plants and animals, with 20 of these species known from within a four mile radius of the property. At-least two year-round streams found on the property provide plentiful water to resident and migratory species. At this time these streams are minimally impacted by activities both on and off the property and so provide a high quality resource to the Collins River watershed area.
Van Buren County
The Goforth conservation easement, also situated in the Cumberland Plateau, is located in Van Buren County, Tennessee. The 395-acre tract is south of the town of Spencer and less than a mile from Fall Creek Falls. The property contains a creek, open fields and several groves of mature trees. The proximity of both these preserved properties to these natural areas adds to a regional wildlife corridor. Continuity is an important ecological concept for sustainable habitat for plant and animal species.
The 500 acre Harper Branch property is situated on the southwestern portion of the Cumberland Plateau (south of Spencer, Tennessee). Within a short driving distance from this property, lies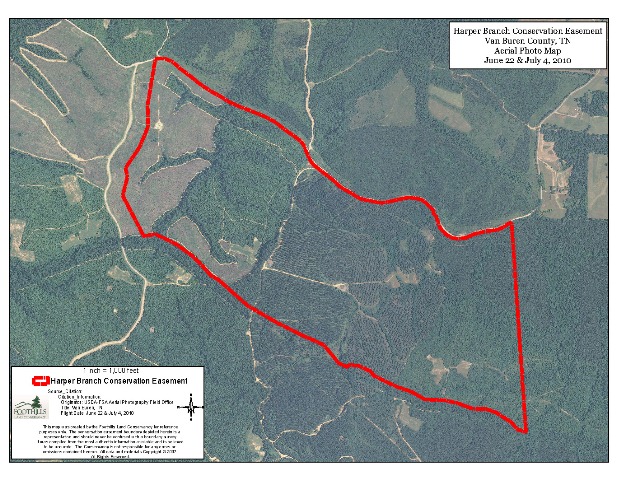 the northernmost portion of South Cumberland State Park, Fall Creek Falls State Park and Rock Island State Park.
Roughly 2/3 of the Harper Branch property is in early-successional grasses, forbs and shrubs with the remainder in mature loblolly pine plantation. Grasses such as Broomsedge, Rabbit Tobacco, Green Sawbriar, Dwarf Sumac, and Canada Goldenrod are prominent.
Adjacent to 1.5 miles of the Property's southern boundary includes the more diverse habitat and culturally historic Trail of Tears (Northern Route), which is a narrow band of about 200 wide of older growth timber in largely mixed hardwoods and some pines. The forb and sub-canopy layers on the Trail of Tears are fairly diverse in natives and together provide quality food sources, nesting and cover for many native wildlife and invertebrate species.
Headwaters for three streams that drain to the nearby Rocky River originate on the Property. The Harper Branch tract lies within the immediate watershed of the Rocky River which was classified in the Tennessee Department of Environment and
Conservation's Tennessee Rivers Assessment Report of 1998 as being of regional significance. 24 rare aquatic species are noted within the watershed.
Cane Creek – 345 acres – The property is nearly 100% in woodland with about 75% in planted pine plantations and the remainder in mixed oak forest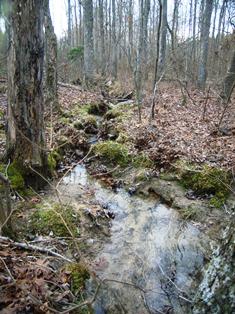 (within the drainages and riparian areas). The large areas of public lands in the region include the 20,000 acres of the Fall Creek Falls State Park and Natural Area which is less than one mile from the Property, and the Bridgestone/Firestone Centennial Wilderness totaling almost 15,000 acres less than ten miles away.
As an almost completely forested landscape, the Cane Creek property functions as an especially important buffer to the adjacent conservation areas and is a critical component in the support of regional continuity and ecological viability of wildlife corridors between these vast protected public lands on the Cumberland Plateau, Cumberland Escarpment and Cumberland Mountains. The property is located within the Caney Fork River watershed and contains the source of the Whetstone Fork of Cane Creek, which then flows into nearby Fall Creek Falls State Park and supports Cane Creek Falls, a popular destination in the Park.
Currently a 60,000 acre wilderness corridor is envisioned by Conservationists who hope to link Scott's Gulf to Bledsoe State Forest and Fall Creek Falls State Park. The Cane Creek Property would at lease serve as a buffer, and therefore conserving the property in its natural state would further the goal of establishing a vast, unbroken corridor.
Piney Cumberland (439 acres) -This easement adjoins another conservation tract of 464 acres, called Meadow Creek. These tracts are located in close proximity to Fall Creek Falls State Park, providing a regional corridor for wildlife.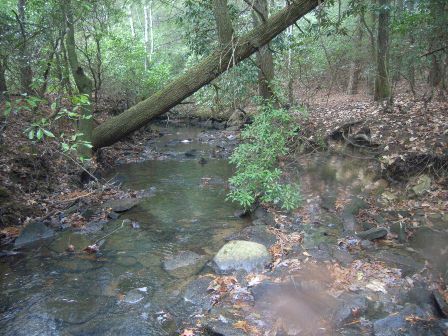 The easement protects a reach of Piney Creek and associated tributaries. Piney Creek is a major tributary for Cane Creek, which flows into Fall Creek Falls State Park.
The majority of the site is forested and dominated by oaks with white oak appearing to be the most dominant tree, followed by red, black and occasionally southern red oaks. As these oak trees mature, they begin to produce mast acorns that provide winter food important for survival.A population of worthy shield lichen was found within the easement. Although this species is not on the Tennessee list of rare species, it has Federal status as a Federal Species of Concern. A short list of plant species was compiled during the field survey. A total of 121 species were recorded. The list includes 26 species of trees, 23 species of shrubs and vines, 57 herbaceous species and 15 non-vascular species.
Van Buren & Bledsoe Counties
The Meadow Creek property adjoins the Piney Cumberland tract (439 acres). The majority of Meadow Creek's 466 acres is forested and located in close proximity to Fall Creek Falls State park, providing a regional corridor for wildlife. The easement protects a reach of Piney Creek and associated tributaries. Piney Creek is a major tributary for Cane Creek, which flows into Fall Creek Falls State park. Numerous species of trees, shurbs, vines, plants (including non-vascular species) are found on the property.
Coffee & Grundy Counties
3 adjacent FLC conservation easements totaling 3469 acres in Coffee & Grundy Counties! Wild Boar – 1112 acres; Pull Tight – 1130 acres; Land South – 1227 acres
For Keith Thompson, the Manager of all three preserved tracts listed above, the idea to have large, permanently conserved acreage in the Cumberland wilderness surrounding a 100 acre camp and ministry is a dream come true. "Once we started to explore the property we found quail and duck habitat. We look forward to starting a timber/forestry management program. The former sand mines now house springs that stay full all the time and are full of fish. It's perfect for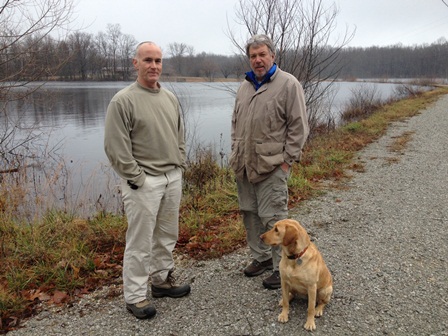 fly fishing and even teaching someone how to flyfish! We hope to break ground on the ministry sometime in 2014."
Roughly two thirds of all 3400 acres consist of mixed hardwoods, with one third consisting of lakes, open fields and a former sand mine. Throughout the three tracts ephemeral wetlands have been noted. Much of the perimeter of the property includes the cliffs and ledges of the Cumberland escarpment – offering up a diversity of wildlife, plants and habitat types. Several rare plants have been noted near or on the property including American smoke tree and Fameflower.
According to Meredith Clebsch, FLC's Land Director, "the Cumberland Wilderness properties may be the most ecologically diverse easements FLC holds to date. The Cumberland Escarpment, the Cumberland Plateau and the valley below together offer a great variety of habitat types and opportunities for diversity of flora and fauna. The steep slopes of the escarpment tend to be less disturbed and so retain many elements of the unique communities that have naturally evolved there. Geologic diversity is an important factor in the complexity of the flora on the properties and also creates an incredibly scenic environment. The sandstone cliffs and rockhouses are simply dramatic and exciting to explore. We are looking forward to learning a great deal from these properties."
For more information about these conservation easements or other FLC projects/programs, please contact Bill Clabough at 865-755-3883 or by email at bclabough@foothillsland.org.
Mission Statement – Foothills Land Conservancy is dedicated to protecting, preserving, and enhancing the lands and environments of East Tennessee and promoting the character of the region for the benefit of the general public, now and in the future.
# # #
Foothills Land Conservancy • 865-681-8326 • 373 Ellis Avenue • Maryville, TN 37804 • www.foothillsland.org

For 2011 Easements info: Click here
For News, Publications & eNews Archives: Click here
---