FLC Celebrates Another Record Year in 2018!
---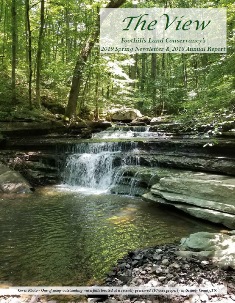 2018 was another record year for the Conservancy! Here are a few highlights:
A record number 51 land preservation projects were completed within 21 Tennessee counties and the 5 additional states of Alabama, Georgia, Kentucky, North Carolina and Virginia.
Foothills' land projects totaled close to 18,010 acres. This number contributes to the total cumulative acres FLC has assisted in preserving since the organization's beginnings in 1985 – which has now reached to over 125,000 acres!
Three of FLC's 2018 land preservation projects are noted by the Tennessee Department of Environment & Conservation's Division of Archeology to have two Trail of Tears routes within the property boundaries. All three of these land partnerships are located in both Sequatchie and Van Buren Counties with one of them also being located in Warren County, TN.
Here are a few of FLC's 2018 projects. More descriptions and photos will be posted in the coming weeks. Click image to enlarge!

Additional Images Below: Clockwise from top) FLC staff pose at the Harris Farm office in Blount County, TN (photo courtesy of Doug Mills). View looking out at Sequatchie Valley from a recently preserved property in Sequatchie County TN. Waterfall at the opening of a large cave on a 308 acre preserved property in Warren Co., TN. An Eastern box turtle was observed on a preserved property in Grundy County, TN. In the same county, FLC staff also came across a few Diana Fritillary butterflies visiting some Butterfly weed.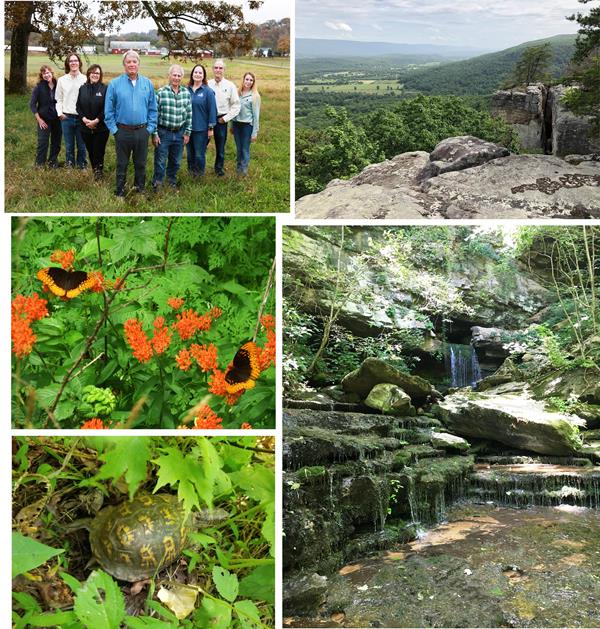 Click here to read about FLC's 2017 land preservation projects!
Click here to read about FLC's 2016 Land Preservation Projects!
Click here to read about FLC's 2015 Land Preservation Projects!
Click here

to read about FLC's 2014 Land Preservation Projects!
Click here to make a donation to Foothills Land Conservancy. FLC is dedicated to promoting, protecting and enhancing the lands and environments of the Southern Appalachian region and promoting the character of the land for the general public, now and in the future. FLC is a 501(c)(3) and does not receive any financial assistance from local, state or federal governments. We rely on individual and corporate contributions solely to sustain our organization, land acquisition and stewardship funds.
---